We provide our clients with
HIGH QUALITY ECO CUPS
& an outstanding professional service

SINGLE WALL HOT CUPS
Attractively designed single walled eco hot cups. Made from high quality paper lined with PLA bio-plastic. Now also available in plain white.
Can be used with or without a cup sleeve.
100% Biodegradable & Compostable.
Available in 4, 8, 10, 12 & 16oz sizes.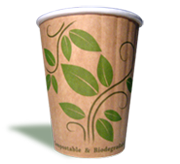 DOUBLE WALL HOT CUPS
Our attractive leaf design eco cups are now also available in an extremely popular double walled variety.
No need to use a cup sleeve - these eco cups keep your hands safe and your drinks hot.
100% Biodegradable & Compostable.
Available in 8, 12 & 16oz sizes.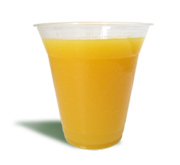 BIO-PLASTIC COLD CUPS
For cold beverages our PLA eco cups do just the job!
Made from 100% Ingeo corn starch bio-plastic.
100% Biodegradable & Compostable.
Available in 7, 8, 10, 12, 16 & 20oz sizes as well as CE Marked Pint & Half-pints.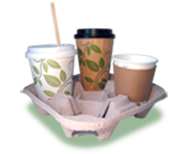 ECO CUP ACCESSORIES
Our wide range of eco cup accessories includes compostable hot cup lids, recycled cup trays, wooden stirrers, biodegradable drinking straws and biodegradable cold cup lids amongst other items..
A wide variety of eco cup accessories is available to complete your beverage serving needs.
View Product Range & Prices

View Product Range & Prices

View Product Range & Prices

View Product Range & Prices

Visit our
online store
to place an order. Quote
ECOCUPS10
to get a 10% Discount!
---
RECENT NEWS
NEW Products for 2016 — November 2015
It's been a very busy year for us at Green Gate Bio Packaging and with 2016 just around the corner we're excited to announce that we will be adding many new products to our range for the new year. For those coffee connoisseurs out there who prefer quality over quantity we will be adding a 6oz eco hot cup. We will also be introducing some plain kraft double walled cups for customers who prefer a slightly more understated style! Keep your eyes peeled for our new catalogue, coming soon.
"Thank you" to all our Customers — January 2015
Thanks to our fantastic customers, in 2014 we saved 4 tonnes of Carbon, 10 tonnes of Virgin Material and 30 tonnes of potential Landfill Waste through sales of our Eco Hot Cups alone. We can't wait to beat these stats in 2015...
Proud Suppliers To The 2014 Commonwealth Games — June 2014
We are very proud to have been selected as suppliers of high quality eco cups to the Glasgow 2014 Commonwealth Games. Keep your eyes peeled and see if you can spot any of the athletes drinking from our cups this summer!
1000 Eco Cups Branded in Just 3 Weeks! — 30th September 2013
Have you ever wanted to have branded cups for your cafe or event but found the lead times too long and minimum order quantities too high? Well we are delighted to be able to offer from as little as 1000 eco cups in 8oz or 12oz sizes branded with your very own artwork or company logo, ready in just 3 weeks! Great for promoting your company!
TESTIMONIALS
"Boy you guys are good! Got everything and it all looks great!".
Ms Alfin, London
27/10/2015
"I am retiring and would like to thank you for your excellent service over the years. Highly recommended".
Ms Fellowes, Wales
17/12/2014
"Thank you for such a fantastic service you guys provide year round, it's a pleasure to work with you".
Ms Yeates, London
05/12/2014
"We have always been very happy with your service - very helpful and friendly staff, and deliveries are always prompt".
Ms High, London
05/09/2014
---